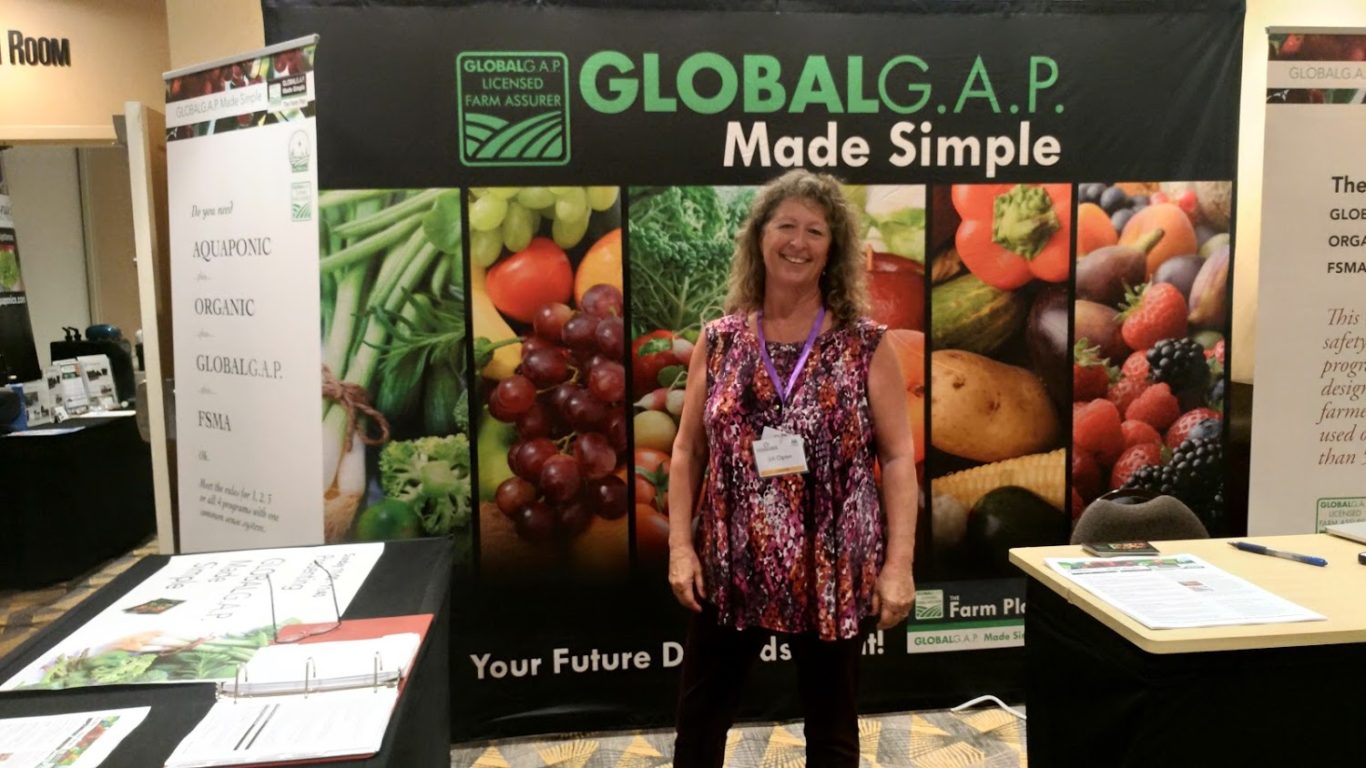 Food Safety un-Scrambled; Aquaponic Guide to Food Safety and Organics
Aquaponic, Hydroponic and Aquaculture farms can and do earn food safety and organic certifications.
By:  Juli Ogden, The Farm Plan President,  Farmer and GLOBALG.A.P. Farm Assurer
The Farm Plan is an Affiliate Member of the Aquaponics Association
(Juli will be presenting at The 2020 Aquaponics Conference October 16-18, learn more: 2020 Conference Website.)
Let's Start with Food Safety's Bottom Line
The bottom-line in food safety is to stop cross contamination between animals, water, manure, people and materials.  
When cross contamination happens, people become ill.  Children, the elderly and those with weakened immune systems are commonly affected first.  Sometimes people die. 
More than 20 years ago, in response to a number of deaths, German retailers began asking for proof that crops were safely grown.  This movement spread across Germany and then Europe, eventually circling the earth. 
Today, in order to sell their crops to large buyers, farms around the world need a food safety certificate. The largest farm certification program is GLOBALG.A.P. but the rules are written in highly technical language with zero instructions.  Food safety documentation and certification is an over-whelming burden for already overworked farms. 
The important step is to prove you grow safe and healthy food.  Most farms are much closer to ready than they think!  They have some cleanup, organization, and worker training to do.  Many chemical storage areas need basic improvements.  With the right guidance, it all becomes clear.
OVERVIEW
When the Aquaponic Association invited me to create a comparison of food safety certification options for aquaponic farms; it sounded pretty simple.  You have probably had similar 'less than realistic' thoughts.  This topic is an entangled mass of programs with no clear direction. Once you read each program's overview, I will offer supporting facts and personal experiences. 
Most farms harbor some fear about food safety audits.  For aquaponic farms this is emphasized.  Your industry is a 'teenager'.  Your fears are increased by the very factor that makes your farming model  so efficient. Your grow large crops in a small footprint, even inside industrial buildings, use limited amounts of water and greenhouse crops are protected from most animal and bird contamination.
So many positives.  So why is it scary?  It's the public's perception of fertilizing crops with live fish.  Information is often the best solution to fear. 
Know that the fish component of your farm is easily dealt with in certification.  Fish waste is not treated as manure.  According to a letter received from a large organic certifier, "The NOP (National Organic Program) Standards specifically exclude all aquatic animals from the definition of livestock and since the definition of manure only pertains to material produced by livestock, fish waste, as produced in an aquaponic system is not determined to be raw manure and there are no pre-harvest interval requirements."   
That was a bit hard to read, but effectively, is says that fish poop is not 'manure'!  Manure is the basis for many rules in both food safety and organics.  I have this documented.
Farmers around the world are uncomfortable and downright angry with food safety's increased regulation, extra work, and extra expense.  It feels unreasonable when crop quality is how the farm survives.  Why should a farmer report how much water they use when farming is much like Goldilocks and the Three Bears?  Water use must be "just right" for a quality crop. That is not the only regulation that's frustrating.  Many of those rules were designed for farms in less developed regions, but they still apply to every farm worldwide program.
Buyers are educated in safe food. They demand it.  Large retailers and crop brokers demand a food safety certificate from processors who demand it from farms.  If that has not yet reached your farm, believe me, it will. 
So how do you meet all the rules and stay in business?  How do you know what is required, what your choices are, and what will work best for your situation?  I can tell you what I did to cover my cherry orchard when it became required in 2012, and how I've moved forward. 
First, let's review program options.
NATIONAL  ORGANIC  PROGRAM  (NOP) 
Organic certification is a choice that may increase your profit line.  It is not a food safety program, but many required steps are duplicated in food safety.  When following a food safety and organic program "do it once and use it twice" is an honest win for all.
The National Organic Program certifies crops grown with no prohibited substances such as most synthetic fertilizers and pesticides. Organic crops offer consumer health benefits and often sell for higher prices than conventional crops. An annual audit is required.  Organic farming on aquaponic farms is quite simple. Use only pre-approved materials and additives, keep good records, maximize biological activity and other techniques to manage weeds, insects and diseases.
FOOD SAFETY MODERNIZATION ACT (FSMA) 
FSMA is the only legally required food safety program that applies to certain crops grown in or imported to the U.S.  Crops eaten raw that do not go through a processing "kill step" such as cooking are covered by this rule.  The list of covered crops is long.  Crops which do go through a "kill step" are not required to follow the FSMA. 
The first rule to recognize is that at least one person per farm must have earned a "Produce Safety Alliance" certificate and act as the trainer for the farm's workers.    This is the total of all crops, human, and animal feed – not just "ready to eat" crop income.
"Farms" required to meet the rule include may grow, handle, process and/or store crops.

Crops typically eaten raw, such as cherries, but sold 100% to a processor using a "kill step" (cooking, for instance) may become FSMA exempt.

Water testing rules, as defined by FSMA, are under challenge from the farming industry and are "on hold for further review". (Food safety certification also requires water testing.)

A.P. certified farms may be less likely to be FSMA inspected.

Farms with 3 year averaged annual income under $25,000, are FSMA exempt.

Every farm has a "trainer" who attended a FSMA training course. They are responsible for on-farm FSMA training.
FOOD SAFETY CERTIFICATION PROGRAMS
You many notice food safety program names tend to end in G.A.P.  This is the acronym for Good Agricultural Practices.  The alphabetical program list that follows is really where your choices begin.  You will choose ONE food safety program. 
CANADAGAP is a well-accepted Canadian food safety program. There is annual fee, but commonly only a 4-year audit cycle.  Aquaponic farmers were at a loss over CanadaGAP's 2019 decision to not certify aquaponic farms as of 2020.  Canadian farmers can jump this hurdle by certifying under GLOBALG.A.P. IFA.
GLOBALA.P. is the most widely accepted, GFSI approved food safety certification program in the world, with more than with more than two-hundred thousand certifications in 135 countries. GLOBALG.A.P. certified farms take very few extra steps to meet FSMA rules.  Integrated Farm Assurance (IFA) is the most often required, top level food safety certification for aquaculture, fruit and vegetable farms and covers growing, harvesting, and handling (washing, sorting, packing, storing, etc.).  GLOBALG.A.P. certified sites meet the universal food safety standards endorsed and accepted by the largest retailers worldwide.  An annual audit required.
PRIMUS-GFS is a well-respected GFSI approved food safety certification program. Primus GFS certified sites meet the universal food safety standards endorsed and is accepted by the largest retailers worldwide. They have something over twenty-thousand current certifications.  An annual audit required.
SQF is a GFSI approved food safety certification program that offers certification to confirm an organization produces, processes, prepares and handles food products to the highest possible standards globally. Emphasis seems to be placed on certifying large processing facilities.   This author is not aware of any aquaponic farms certified under this food safety standard but it does appear to be possible.  An annual audit required.
USDA GAP HARMONIZED standard is approved and accepted by many retailers who require a GFSI certified standard. Audits are performed in (at least) the United States, Puerto Rico and Canada.  Aquaponics may only certify under the Harmonized Program. An annual audit required.
ADDITIONAL PROGRAMS SOMETIMES REQUIRED BY CROP BUYERS
SOP – STANDARD OPERATING PROCEDURES are written performance guides for each farm and facility process. SOP'S are a requirement for organic certification and some large crop buyers. Audits may or may not be required by the crop buyer.
HACCP – HAZARD ANALYSIS AND CRITICAL CONTROL POINTS "pinpoints" each farm process with a high food safety risk, performs an analysis of the risk and creates a management plan to ensure the problem does not happen. This is required by some crop buyers in addition to FSMA, GLOBALA.P. and /or National Organic Program Certification.
GOOD MANUFACTURING PRACTICES are similar to the SOP and HACCP above. It ensures products are consistently produced and controlled according to quality standards by minimizing risks.  This program often goes hand-in-hand with HACCP. Audits may or may not be required by your buyer.
IN MY EXPERIENCE
In 2012 I was required to GLOBALG.A.P certify my cherry crop. Those regulations did not include a single instruction.  How is a busy farmer, already wearing a dozen hats, supposed to get this job done with no guidance?. I outlined all 325 pages of complicated, overly academic regulation, page by page and the result was a rough food safety program.  My packhouse field man saw what I had done and had me to help the rest of his growers.  The gratitude for that training paved my path into food safety support.
Meeting the rules of food safety is not that hard when you know what they are.  The top points are to:
Protect your crop from cross contamination.

Protect your workers and the environment

Keep the farm clean and organized.

Keep track of certain jobs.

Answer it, now prove it is my mantra when setting up food safety.
By:  Juli Ogden, The Farm Plan President,  Farmer and GLOBALG.A.P. Farm Assurer
In an industry known for its complexity Juli is pioneering a way of doing things that is within reach of every farmer, no matter how small or how large. (BM)
On and off the farm with Juli Ogden:  Juli is happily married, still works on her farm but focuses on food safety consulting and public presentation.  She was a professional real estate expert, author and radio show host for Business Talk Radio and Lifestyle Talk Radio.  At the age of 32, Juli was named Washington State Small Businesswoman of the Year.  Juli is an industry acknowledged food safety expert and public speaker.
Do you want to support Aquaponics?
The Aquaponics Association is a nonprofit that cultivates aquaponics through education, advocacy, and connection. Please consider a General Membership to support this cause.
Benefits of Membership include:
Regular newsletters
Access to Aquaponics Association Members Forum with chat groups and direct messages
Ability to participate in working groups to move aquaponics forward: 1) Commercial Aquaponics; 2) Community Aquaponics; 3) Aquaponics in STEM Education; and 4) Aquaponics Research
Exclusive web content like checklists, best practices, conference presentations and full conference videos from top experts
Legislative & Regulatory Updates
Special Member Discounts
Membership fees also support:
Development and promotion of materials to educate the public about the benefits and opportunities of aquaponics!
Development of industry standards and best practices
Infrastructure to connect aquaponic growers from around the world
Strategic partnerships to expand aquaponics into new fields
Ability to speak with one voice to policy-makers and regulators on issues like Organic certification, food safety certification, and agriculture policy
Resources to improve aquaponic growers' skills, growing capacity, and business opportunities
Resources to cultivate and develop aquaponics as an emerging green industry
Learn more: General Membership