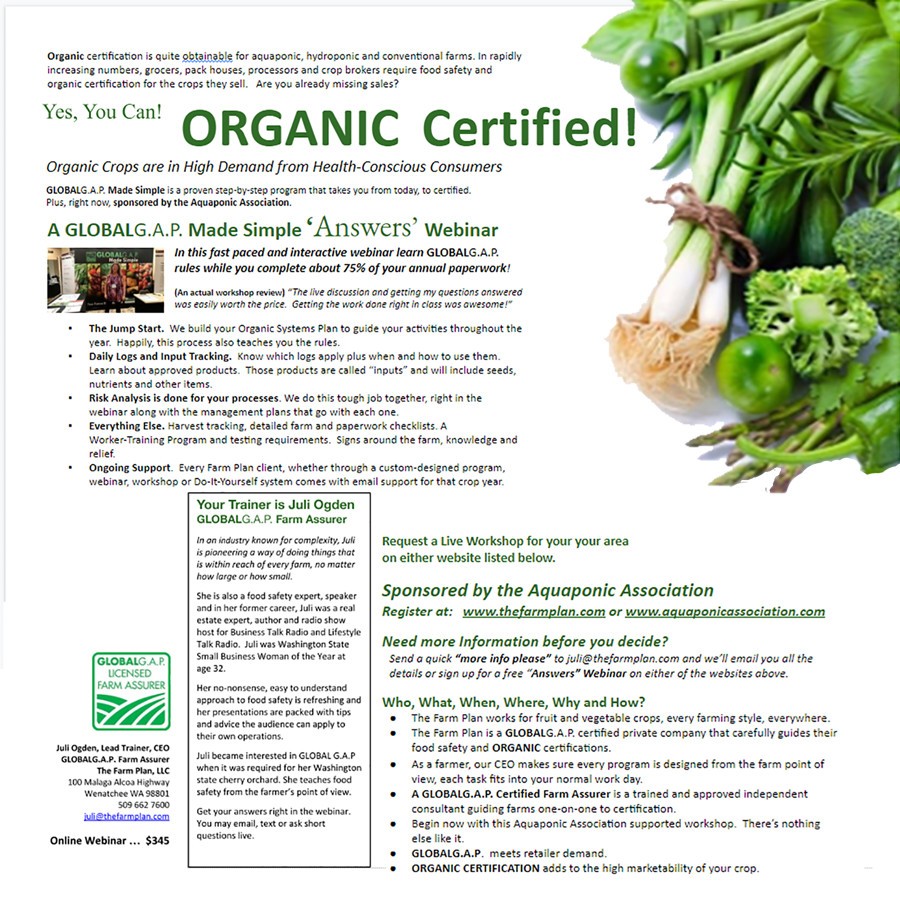 Oops, Restricted Content
We are sorry but this content is restricted to folks that have purchased this content.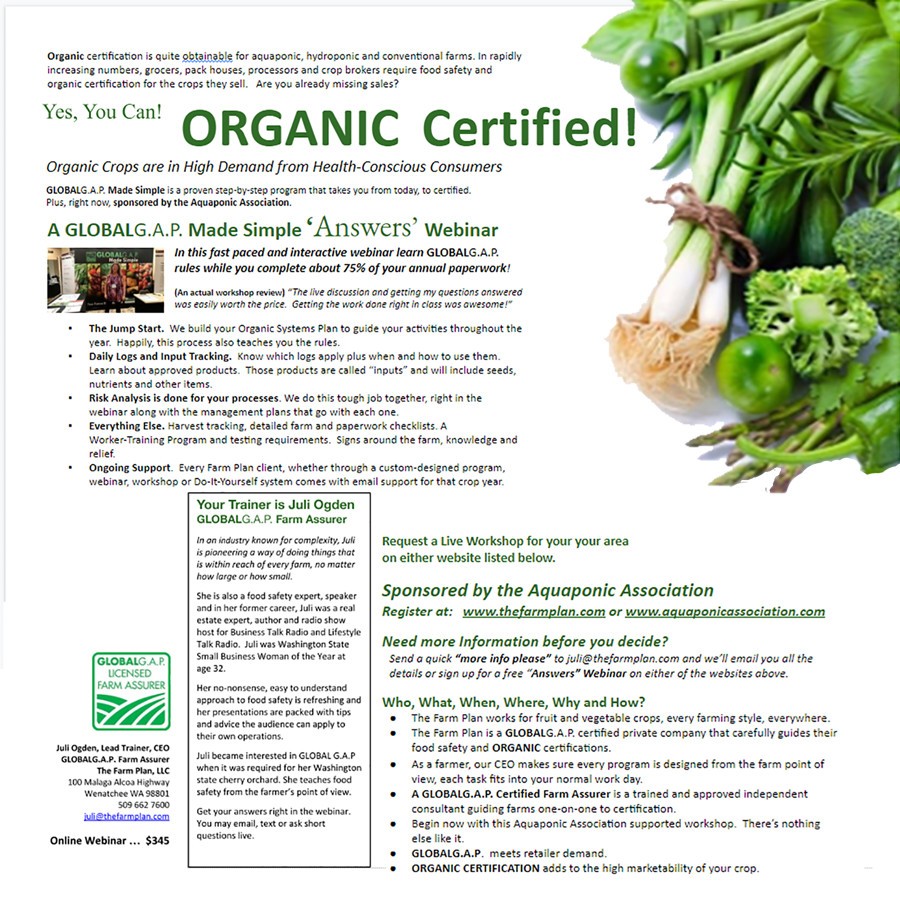 FREE Introduction to Organic Certification Webinar
(Available on Tuesday, December 17, 2019)
Organic crops are in high demand from health-conscious consumers.  Organic certification is quite obtainable for aquaponic, hydroponic and conventional farms. In rapidly increasing numbers, grocers, pack houses, processors and crop brokers require food safety and organic certification for the crops they sell.   Are you already missing sales?
Discover what you need to know to pursue organic certification.  This free, recorded webinar will cover the following:
The Jump Start.

  We build your Organic Systems Plan to guide your activities throughout the year.  Happily, this process also teaches you the rules.

Daily Logs and Input Tracking.  

Know which logs apply plus when and how to use them.  Learn about approved products. Those products are called "inputs" and will include seeds, nutrients and other items.

Risk Analysis is done for your processes

. We do this tough job

together, right in the webinar along with the management plans that go with each one.

Everything Else. 

Harvest tracking, detailed farm and paperwork checklists. A Worker-Training Program and testing requirements.  Signs around the farm, knowledge and relief.

Ongoing Support

.  Every Farm Plan client, whether through a custom-designed program, webinar, workshop or Do-It-Yourself system comes with email support for that crop year.
Who, What, When, Where, Why and How?
The Farm Plan works for fruit and vegetable crops, every farming style, everywhere.

The Farm Plan is a

GLOBALG.A.P. certified private company that carefully guides their food safety and ORGANIC

certifications. 

As a farmer, our CEO makes sure every program is designed from the farm point of view, each task fits into your normal work day.

A GLOBALG.A.P. Certified Farm Assurer

is a trained and approved independent consultant guiding farms one-on-one to certification. 

Begin now with this Aquaponic Association supported workshop.  There's nothing else like it.

GLOBALG.A.P

.  meets retailer demand.

  
ORGANIC CERTIFICATION

adds to the high marketability of your crop.  
Need more Information before you decide? 
Send a quick "More Info Please" to juli@thefarmplan.com and we'll email you all the details.
About Juli Ogden, Lead Trainer and GLOBAL G.A.P Farm Assurer
In an industry known for complexity, Juli is pioneering a way of doing things that is within reach of every farm, no matter how large or how small. 
She is also a food safety expert, speaker and in her former career, Juli was a real estate expert, author and radio show host for Business Talk Radio and Lifestyle Talk Radio.  Juli was Washington State Small Business Woman of the Year at age 32.
Her no-nonsense, easy to understand approach to food safety is refreshing and her presentations are packed with tips and advice the audience can apply to their own operations.
Juli became interested in GLOBAL G.A.P when it was required for her Washington state cherry orchard. She teaches food safety from the farmer's point of view.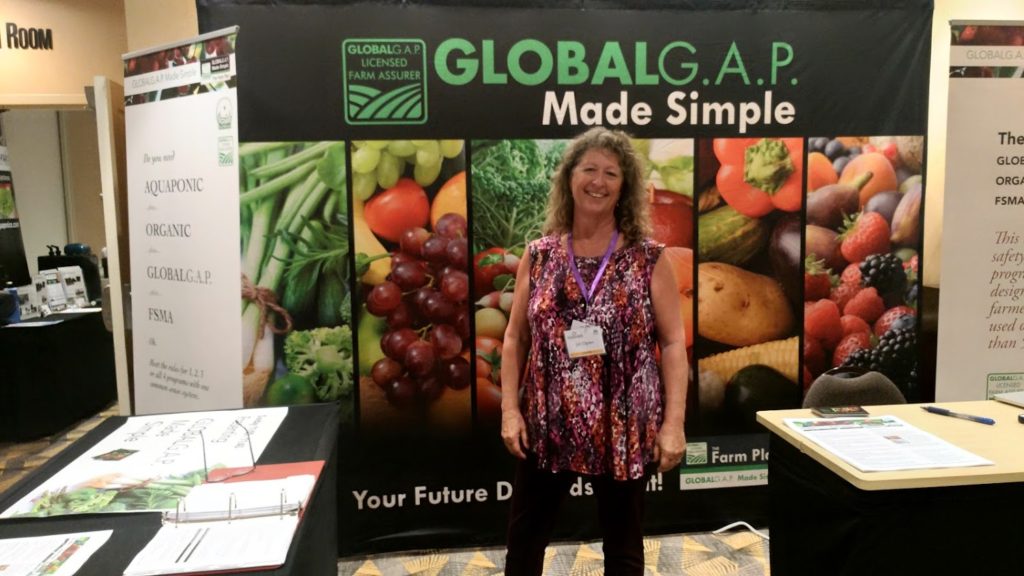 Oops, Restricted Content
We are sorry but this content is restricted to folks that have purchased this content.